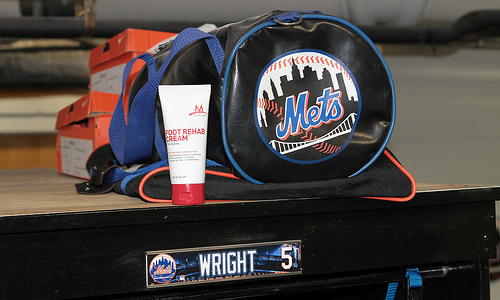 They're tough to come by, but once you find them, you're good to go ... and go and go and go. What are we talking about? Gym bag essentials.
Finding products that work for you is key to staying on track toward achieving your goals - whether they be completing your first race, staying healthy through the playoffs or something as commonplace as staying protected while you and your family exercise outdoors. Part of the reason Mission appeals to so many different people is because our products address various components of the training process. They help you protect, perform, and rehab. Depending on your specific needs, you can browse our products by any one of those three categories.
We highlighted a couple of go-to fan (and athlete) favorites:
For protection, we've chosen a fan favorite: the SPF 30+ No Sting Face Stick. In fact, just a couple weeks ago, we had a Mission user check in over Twitter from the Cayman Islands. She is an Ironman triathlete and runner and while training under the tropical sun, she's choosing Mission. She's in good company too. Sergio Garcia - our resident golfer - uses it every time he's out on the green. So, if you're putting in miles outside, or just spending time in the sun, our sun (protection) products are athlete approved, and available in varying SPFs and applications.
For performance, we went with a lesser known product, with an equally impressive fan following. 5 Hour Anti-Chafe Creme. If you missed our blog post on Sarah Haskins from earlier this year, she candidly gushes about how Anti Chafe has saved her from saddle sores and blister hickeys (on her way to World Championships and Olympic Games, of course!). If you're running, biking, swimming, and everything in between, Mission's Anti-Chafe stands up to your crossover ways.
And finally, when it comes to rehab, you've got to show your feet some love. We recommend our new Athlete's Foot Rehab Spray. It is clinically effective to cure and prevent most athlete's foot. It relieves itching, burning and cracking while absorbing sweat and fighting odor. You know, a bunch of our athletes are quite vocal about keeping their feet looking fresh. Dwyane Wade has traded jabs with Skip Bayless about manicures and pedicures; Serena even has her own nail polish line. To keep your feet happy and healthy, look no further than Athlete's Foot Rehab. (Dare we say, a perfect stocking stuffer for the person in you life who's always on their feet!)
This holiday season, we're doing our best to make finding gym bag essentials easy. All of the products listed above are featured in gift baskets designed by our superstar athletes themselves (and offered at a great value!). To take a look at who likes what, you can browse all of the kits here. And, if you're in love with a product and want to share where you've been using it, shout us a holler. It's always fun to hear from fellow athletes on a Mission.
Happy Holidays!