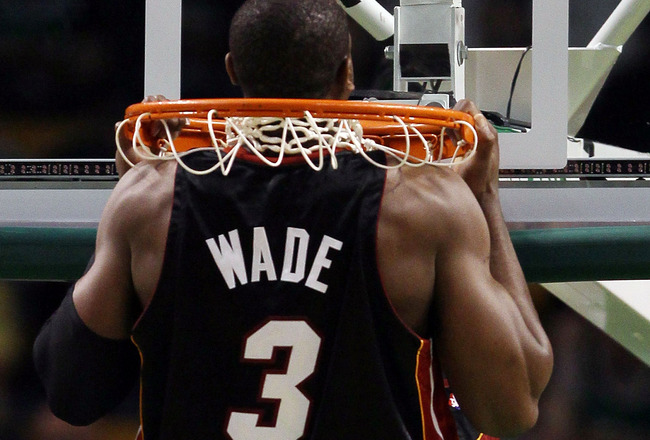 Success in professional basketball is a product of immense preparation. One important aspect of preparing for a game is the concept of "pre-game rituals", or the routine a player goes through in the time immediately leading up to a game. Not to be confused with locker room superstitions, this routine that a player goes through not only makes for a great show for spectators, but also helps players to become both physically and mentally prepared prior to game time.
There are a variety of customs that players in the NBA today go through just prior to gametime. Although the league recently implemented a new rule requiring starters to be on the court within 90 seconds of lineup introductions, there is still ample time for players to get into their mental and physical comfort zones. Dwyane Wade recently outlined his pre-game ritual here, which includes a "chin-up" on the rim (pictured) www.youtube.com/watch?v=JTy9dAuE1pA
Perhaps the most well known pre-game ritual is associated with the league's most well known player: Lebron James. At the conclusion of introductions, James heads straight to the scorers' table and powders up his hands. He then lets the powder fly into the air, almost always eliciting a massive reaction from the crowd. Some players are also now using a newer product called Mission Power Grip, which is a "liquid chalk" that they apply to their hands for a "dry grip" on the ball.
Right before tip off or when checking in, some players will step on a sticky mat to clean the bottoms of their shoes and more and more players are now applying Mission Court Grip to their sneakers for enhanced traction.
Another popular pregame ritual amongst NBA players is the handshake. Many players have developed intricate handshakes with one another. Sometimes these handshakes go beyond just player-to-player, expanding to coaches and even to the officials at the scorers' table. The Oklahoma City Thunder are the team most well-known for these theatrics. www.youtube.com/watch?v=k6QlkghHHsA
Other players have specific shot routines that they go through, always making sure they take a certain amount of warm-up shots at certain areas of the floor. Some players must touch certain areas of the floor in their warm-up.
However, some routines, like that of the injured Boston Celtics star Rajon Rondo, become a bit more complicated. According to teammate Jason Terry, Rondo's pre-game routine includes high-fiving the whole team, partaking in layup lines for five minutes, before finally "stand(ing) under the goal and Paul Pierce will shoot every ball on the rack from half court. He will catch four balls at one time and then after that…one pass off the backboard to KG, one bounce pass to Paul Pierce and then he throws it all the way up to the scoreboard and Jeff Green finishes with an alley-oop."
Ultimately, pre-game rituals have become an essential part of the pre-performance routine and allow players to feel comfortable and ready to take on their opponent. In addition, it is the time when players apply their "tools of the game" that will help them perform to their potential.
So….what is the craziest pre-game ritual YOU have seen at any level, NBA, College, High School, etc.?