On a balmy night in New York, the M Foundation, in partnership with Mission Athletecare™, Modell's Sporting Goods and the David Wright Foundation presented the inaugural $20,000 "Gold M Award" to high school senior Mitch Arnold, from Fort Atkinson, WI.
Launched in September 2010, The M Foundation is a revolutionary non-profit organization that inspires young athletes to lead healthy lifestyles and to perform their best both within and outside the competitive arena – through activation and awards programs – most notably, The M Awards. The M Awards, a national scholarship program which are championed by the M Foundation's world renowned athletes and spotlight "Athletes on a Mission" everywhere, identifies high school athletes who are exemplary role models in their communities. In its first year (2010-2011 academic year), the M Foundation recognized over 40 high school student athletes with Bronze and Silver as well as our one overall Gold award winner.
"We are extremely proud to present Mitch with the first ever Gold M Award for his exceptional leadership both on and off the field, and for his outstanding commitment to give back to children around the world who share his love and passion for soccer," said Cathy Cercena, Executive Director of the M Foundation. "Mitch is a leader, a role model and a shining example of what it means to be an "Athlete on a Mission."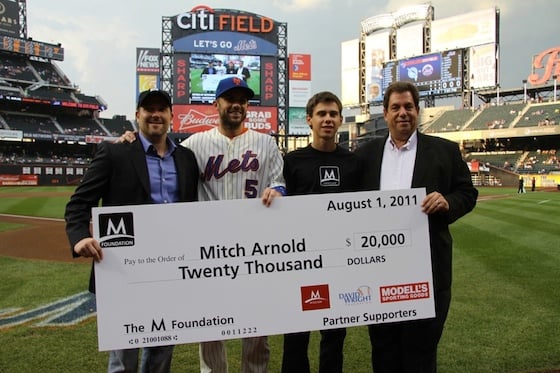 Arnold was presented with a $20,000 check – $10,000 college scholarship, $10,000 donation to charity – during an on-field event at Citi Field on Monday, August 1st with New York Mets All-Star David Wright, President, Mission Athletecare Founder and President Josh Shaw and CEO of Modell's Sporting Goods Mitchell Modell.
"The true meaning of an athlete is not only to perform on the field but to leverage those abilities in the community as well," said David Wright. "Mitch embodies everything an athlete should aspire to be and we're honored to present him with the inaugural Gold M Award so he can continue to educate and inspire other student athletes across the world."
Arnold's mission mirrors that of the M Foundation in that he seeks to educate and inspire. In October 2006 he created a foundation called "Peace Is the Goal," an organization created to spread goodwill throughout the world by way of soccer. By supplying children in need with new soccer equipment, Arnold is giving kids a positive outlet, providing physical education, team-building and morale-boosting activities.
Since the inception of "Peace Is the Goal," Arnold has completed 106 projects which have led to the shipment of nearly $35,000 worth of soccer equipment and has impacted more than 15,000 children in 53 countries including Afghanistan, Ethiopia, Kosovo, Uganda, the United Arab Emirates, Vietnam and the United States.
Arnold added, "I want to thank the M Foundation for choosing me as the inaugural Gold M Award winner. I feel blessed to be recognized and honored by such a phenomenal entity and by athletes whom I've admired throughout my entire life."
To learn more about The M Awards or to nominate a student-athlete, visit www.theMawards.org or register at www.berecruited.com. For more information about the mission and work of The M Foundation, visit www.theMfoundation.org.
Do you have a good story about a young athlete in your community making a difference? Leave a comment below!