Everyone's on a mission. Regardless of whether tomorrow's goal is winning the US Open (here's lookin' at you, Serena) or getting up after a taxing workout or a day of heavy lifting, the ability to bounce back is essential. Just ask Mission Athletecare partner and Met's 3rd baseman, David Wright who attests, "good day or bad day, you have to be able to rebound and rebound quickly." Even though most of us are not accustomed to the seven-day workweek of athletes like David and Serena, we are familiar with the idea of a no-days-off attitude. If our goal is something worth pursuing, we should be pursuing it non-stop.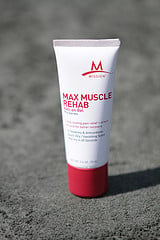 Keeping the mind sharp to achieve that goal is one thing. Keeping the body prime for the daily grind of making it happen is another. That's where Mission's Max Muscle Rehab steps in. As part of the line of Mission Athletecare products, it was specifically engineered to enhance performance and rehab for training and competition. There is no need for ice baths or heating pads; just apply and get back after it.
Max Muscle Rehab helps David "jump outta bed" to suit up for the Mets. And, Serena Williams, who can name a laundry list of body parts that are aching after training, uses it at the end of the day for "instant results." We all love those and we all have to get up tomorrow. Here's to a speedy recovery.
Ready to buy? Visit our online store
Questions? ask@missionathletecare.com