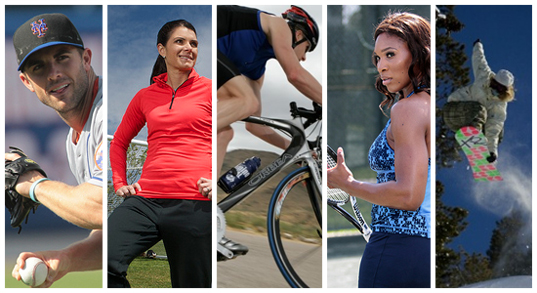 We are never short of news to report about our athlete partners. With an athlete team that is competing year-round, we never have an off-season. One hope for this blog is to introduce you to each and every one of them, not just as high performing elite athletes, but also as community leaders. So while you may be an avid fan of Sergio or Jessica, check out Mia and Georges. They're all on this team together; get to know them!
Without further ado, a quick run down of what our número unos (yes, all of them) have been up to this summer.

Serena Williams: Although Serena fell just short at the 2011 US Open, her return to dominance this season can't be questioned. With strong showings at both the Open and Wimbledon, Serena is positioned to regain her spot as the #1 seed very soon! Check out Serena on Mission Foot Rehab Cream

Georges St. Pierre: Reigning UFC Welterweight Champion, St. Pierre is in hype mode and gearing up for his upcoming UFC 137 main event title fight against welterweight, Nick Diaz. GSP says he's back to 100%, coming off a head injury sustained in a fight on April 30th.

Sergio Garcia: Will be moving on from the Deutsche Bank Championship in Boston to greener pastures in Chicago for the BMW Championship. No stranger to fútbol, Sergio spent some time practicing with the New England Revolution while in town. Watch out for him on the links and on your local soccer field.

Gretchen Bleiler: Finished fourth at the Burton New Zealand Open in August. Read about her quest to land the frontside corked 720 in competition and keep up with her advocacy work off the mountain on her ESPNW blog.

Steve Nash: Recently spotted at Rock the Bells on Governor's Island in New York, Nash, along with his fellow NBAers, are waiting out the lockout. This summer, the Steve Nash Foundation hosted their annual Showdown in Chinatown soccer event in NYC. Steve will also be playing a supporting role in an upcoming Mission announcement ... stay tuned!

Sarah Haskins: Sarah made it three in a row at the 2011 Life Time Chicago Triathlon, becoming the only woman to ever threepeat. She'll continue her preparation for the 2012 Games in London at her next race, the Toyota US Open Triathalon on October 2.

David Wright: After a dominate week at the plate, and an overall surge since coming off the disabled list at the end of June, Mets' third baseman David Wright was recently named the NL's Player of the Week for leading in hits and doubles. See David talk about the importance of wearing sunscreen

Hunter Kemper: Coming off a great 2nd place finish at the Hy-Vee Triathlon in DesMoines, Iowa, Hunter's on to the Buffalo ITU Race on the 24th.
Amanda Beard: Will build off of her performance at the World Swimming Championships in Shanghai in continued preparation for London and the approaching Olympic Games. See Amanda's video profile
Mia Hamm: Offered her expert opinion as a guest commentator during this summer's Women's World Cup and recently laced up the kicks for her foundation on July 31st at a bone marrow registration event in DC. More

Ryan Scheckler: Two months after wrapping up the Zumiez 2011 Couch Tour, Ryan's still accumulating skate footage for his part of the Plan B video slated to drop sometime next year. Catch him in FL this week!
Jessica Mendoza: Was just on the sidelines of the BYU and Ole Miss game last week and can be found at more of college football's biggest games this season as an ESPN lead analyst and sideline reporter.
Alonzo Mourning: NBA front offices are waiting out the lockout, too. Mourning, Miami Heat VP of Player Programs will be joining fellow Hoya alum in South Africa. Alonzo, along with Georgetown buddies and NBA greats Dkemebe Mutumbo and Patrick Ewing, will be touring as coaches and ambassadors with the Basketball Without Borders program.

Want to learn more about these athletes, where they are in the world and what they're doing there? Tell us who!