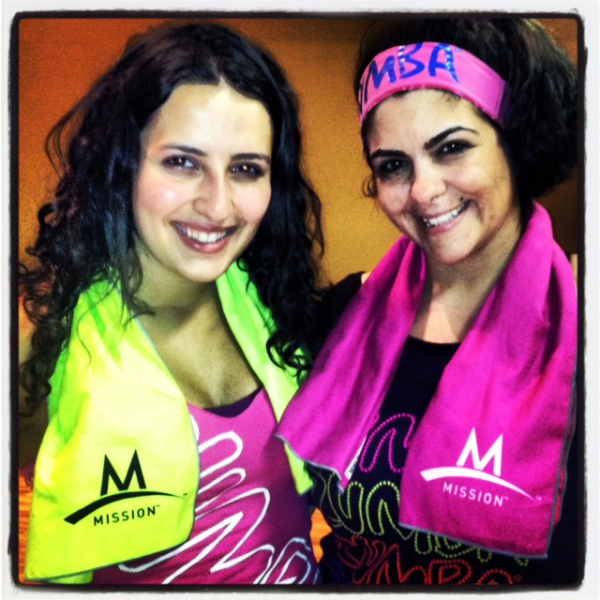 At MISSION, we love to hear stories about how our products make a difference in people's workout, training and life! This week, Ashley Baratian, was nice enough to share her story and how she discovered her MISSION to become a certified Zumba instructor....
My Mission, by Ashley Baratian
Have you ever wondered what it would be like if you could find an exercise ritual that you actually looked forward to completing every day? Sounds too good to be true, no?

Well, MISSION accomplished- I found a solution. If you enjoy music, enjoy having fun and being in a room filled with high energy and a vivacious atmosphere, this will work for you too.
After playing my role as a highly athletic high school student, I gained the miserable "Freshman 15" when I got into college. The 15 pounds then turned into 20 pounds which made me realize that I need to start getting back into shape- I needed to start endorsing a healthier lifestyle for myself,
I signed up for the gym and just wasn't motivated enough to make a routine out of it. To me, going to the gym and spending 45 minutes on the Stairmaster sounded more like a dreadful chore, rather than a compelling stimulant to help me lose the weight I gained.
I somehow managed to walk into a ZUMBA fitness dance class that the gym was holding shortly thereafter. After walking in late to the class, I found that I was not able to properly follow the instructor; I had two left feet and was nearly five steps behind everyone. The instructor would go to the right and I would go to the left, she would go forward and I would go back. But for some reason, it didn't matter to me. I still managed to sweat buckets and because of everyone's support, I had so much fun that I didn't really care about how badly I messed up the dance moves. Before I knew it, the hour was over and I couldn't wait to go back to class.
One thing led to another and I realized that although lifting weights, going on the elliptical machine and running miles upon miles on the treadmill is an appropriate fit for some, ZUMBA was the right fit for me.
After the first two weeks, my waist dropped two sizes and I started to lose the weight that I gained and I couldn't be more ecstatic about the results. I became a ZUMBA addict- going to class religiously and slowly making my way from the back of the class to the front.
Soon enough, my instructor recognized that I had the potential to become a ZUMBA instructor myself. She took me under her wing and she trained me for months until she thought that I was ready to go get certified and become an instructor myself. I rationalized the logistics of becoming an instructor and realized that it only makes sense to get paid doing what I love.
Now, as a certified ZUMBA instructor, my goal is to have my students enjoy working out without having to feel the pain of strenuous and monotonous physical activity that takes place in the gym. I want to be able to help those students that want to lose weight but have trouble doing so because they are not really motivated to work out in the gym. With a brightened studio, vibrant energy and smiles all around, the ZUMBA workout can potentially become an addictive and healthy hobby rather than an obligatory chore.
As an instructor, I create exercises that aim to work out the main "problem areas" people tend to find. Namely; abs, waist, biceps, triceps and thighs. Additionally, make sure all my students keep their heart rate up by making the entire class a combination of cardio exercise and muscle toning.
In class, students tend to get pretty hot relatively quickly and release endorphins faster than they normally would because of the intensity of the class. Therefore, they start sweating profusely very quickly even though they don't feel it.
So, when I came across Mission's Enduracool towel, it immediately became a must-have for class! An amazing product that was going to help my class be fun, not painful, and help people feel cooler and not overheat. It is so easy to use… I just soak it in the water fountain before class and snap it a few times before class starts. Within a minute this towel is unbelievably cool, but not soaking wet, so you don't have to worry about getting your shirt dripping wet. I use it for a quick burst of cool in between songs on my face and arms, and to cool down after class around my neck. Fun colors like neon green and bright pink fit my outfits perfectly!

ZUMBA helped me realize how good it feels to leave the comfort of my home to enter the comfort of a studio and enjoy other people's company while getting my daily exercise. The fun atmosphere along with the vibrant attire makes my experience as an instructor much more enjoyable.

I never expected to burn up to 1,000 calories in one hour of a dance class. So, if you are looking for the right exercise fit, try it out! Make it your MISSION to push yourself outside of your comfort zone and try alternative forms for exercise. Dance off the pizza you ate today, get to Zumba and it will brighten your day!
Just look online to find classes near you and go see for yourself what all the hype is about. Remember to stay hydrated and listen to your body throughout class!