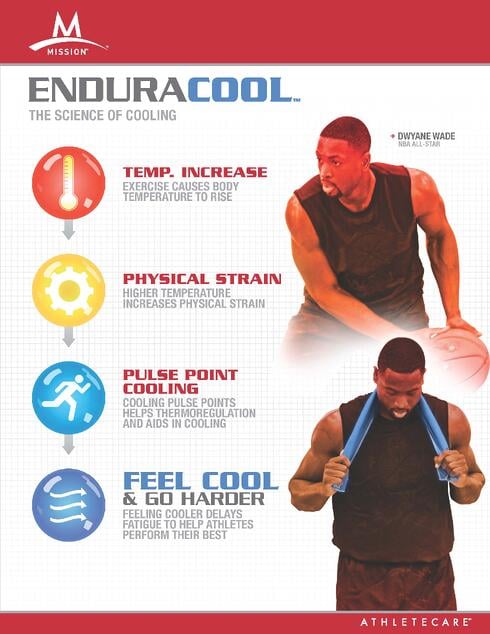 Training, running, competing in hot environments can be grueling. Your body temperature runs higher, you sweat more, you work harder to perform.
The skin is the body's natural radiator. Sweating and vascular dilation - having your blood vessels carry blood closer to the skin - helps your body maintain the proper temperature. On average, your body stays within a range of 96.4 and 99.1 degrees, but exercise makes this more difficult, with variations up to 103 degrees for especially hard workouts. And as temperatures continue to rise, the demands on the body challenge the efficiency of your natural radiator; leading to decreased performance.
Emerging science shows that cooling key areas of the skin (namely the neck, wrists, elbows and temples, also known as "pulse points") can help stimulate thermoregulation signals to the brain, delaying fatigue, and making you feel less discomfort from those grueling hot temperatures. Now, who wouldn't want to feel less discomfort from the heat, especially if it helps you feel like you could go harder, and longer in your workout?
Here are some helpful insights into how pulse point cooling works, and some gear recommends that can help you harness pulse point cooling to maximize your training.
How Pulse Point Cooling Works:
Ever wonder what is exactly happening when you get that "flushed" look as you overheat? Well, here is how it breaks down. As your temperature rises, the body opens up the capillaries near the skin. Your natural cooling system circulates blood to move heat from inside of your body to the surface of your skin. Your sweat then helps cool you, by releasing some of that heat as sweat evaporates. The blood near the surface of the skin then recirculates through the body and absorbs more heat to be released. The process continues...
So, how can cooling pulse points help? Simply, it helps your body continue that natural process more efficiently. Cooling your pulse points (those points where you blood travels closest to the surface of the skin) with water, cool fabric or towels provides a greater heat differential to allow for a greater amount of heat to be lost through evaporation of sweat.
In other words, if the goal is to help your body be a more efficient radiator, concentrate this effect on the parts of the body where the most good can be done... the neck, the temples, your wrists... where the most blood travels closest to the surface.
In one study by the National Athletic Trainers' Association, using pulse point cooling on the neck during exercise helped athletes to lower heat strain, exercise five minutes longer, tolerate higher temperatures internally and increase performance by six percent. In a separate study from Stanford University, athletes who practiced the same pulse point cooling technique were able to delay fatigue, train harder, gain muscle more rapidly and most importantly, train longer than competitors.
It is evident that overheating is not something to be taken lightly. And there is no replacement for hydration and prevention (see TIPS TO PREVENT OVERHEATING in our previous post) But as athletes continue to look for the extra edge, understanding the science behind pulse point cooling can inform training regimens and gear considerations.
Enduracool Instant Cooling Gear:
Building on the science of pulse point cooling, MISSION has launched a new collection of Instant Cooling Gear to target pulse points and help you feel cooler.
MISSION's new EnduraCool™ Instant Cooling Gear is powered by patented Coolcore™ technology, and offers innovative, intelligent and sustainable cooling solutions to athletes across all sports – from individuals to teams, casual competitors to professionals. The new EnduraCool™ Instant Cooling Gear lineup includes: Instant Cooling Hoodies, Instant Cooling Sleeves, Instant Cooling Skull Caps, Instant Cooling Helmet Liners and Instant Cooling Headwear. The line builds upon the research and thermoregulation technology that originally produced the Mission EnduraCool™ Instant Cooling Towel, and offers instant cooling benefits in lightweight and breathable textiles that also include UPF 45+ sun protection.
A simple process activates the cooling technology in all EnduraCool products. Athletes simply wet it, wring it out, and allow air to circulate into the fabric. The fabric cools to approximately 30 degrees below the average body temperature in under a minute, and the cooling effects – easily reactivated by re-wetting the fabric (with water or sweat) and re-introducing air flow – last for hours.
Feel Cool and Go Harder.