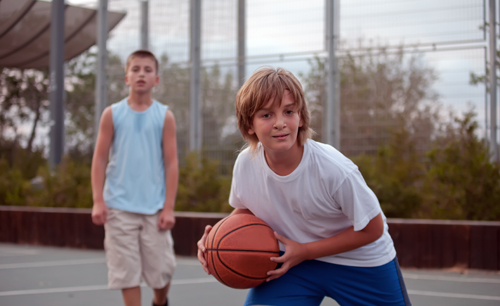 Memorial Day… the "unofficial" start of summer for many. While we love much of what summer brings, it can also bring blistering heat, and the challenges to keep yourself and your kids cool. However, as long as you take a few essential precautions, breezing through the summer heat can be easy. Let's face it. Our kids aren't familiar enough with the symptoms of overheating to let us know when they need to take steps to stay cool. Children also sweat less than adults, making it harder for them to cool off and putting them at greater potential risk. Preventing dehydration, overheating and sun damage are essential for families in the summer. Balancing time in and out of the sun will help everyone enjoy summer more. So if you are out there this weekend, kicking off your family's summer of fun, follow these 5 simple tips to prevent sun and heat-related illness.

1. Hydrate: Drink water. Stay fully hydrated by drinking water with other caffeine-free liquids. When you drink liquids with salts, sugar and minerals, you replace what you sweat out. Alternate drinking water with sports drinks and juices. Drinking water-rich fruit such as grapes or watermelon will also help kids replace fluids, nutrients and minerals. Kids old enough to eat whole grapes might enjoy them even more while frozen.

2. Stay Protected from the Sun: Play in the water, but remember to reapply sunscreen frequently. Playing in water, whether in the ocean or the pool, helps prevent overheating. But even water resistant sunscreen will wash off eventually, so reapply frequently and after leaving the water. If you kids are sweating while playing pick-up games with friends or at organized sport camps, re-application is critical here as well. General rule of thumb is that water resistant sunscreen like MISSION's Kids Continuous Play Sunscreen SPF 70 has up to 80 minutes of water/sweat resistance.

3. Dress Cool to Feel Cool & Protected- Light, breathable clothing keeps everyone cool. Pastels and whites aren't just fashionable for summer: they help reflect light away from the body. Loose, lightweight, breathable fabric will keep kids cool. Sunhats for kids help protect their face and eyes, which can be crucial protection for kids who won't wear sunglasses. And now, there are more and more wearable accessories that have Ultraviolet Protection Factor (UPF) that block the majority of harmful rays that kids are exposed to when in the sun. MISSION's new line of Instant Cooling Gear will not only help your kids stay cool, but the fabric has UPF 50 protection from the sun! A two-in-one product to defeat the sun and heat this summer.
4. Bring Down Skin Temperature & Cool Pulse Points - Pulse points are essentially areas where you can feel your pulse because your blood vessels are close to the surface of your skin. Because they are so close, you can help cool off your blood by getting the area in contact with cool water or fabric. Your neck is arguably one of the most effective pulse points to try to keep cool. Other pulse points include your wrists, the insides of your elbows and knees and your temples. When kids exhibit symptoms of heat exhaustion parents can help cool them by running cool water on their pulse points. Jumping in a cool pool will also help, but let's be honest; a cool body of water is not always readily available. When you need a portable solution that will cool down the skin, but not soak your kid's clothing at the same time, try MISSION's Instant Cooling Towel. A quick burst of cool anywhere that will give your budding all-star relief.

5. Limit outdoor activities during the hottest part of the day- This is either 10 a.m. to 2 p.m. or 11 a.m. to 3 p.m., depending on your location. Kids can still play outside during this time, but make sure that shade and beverages are nearby and check kids regularly for signs of overheating or sun damage. If you are attending a special event like a sports tournament, a fair or going to an amusement park, check the venue map for the nearest food courts or first aid facilities. They often have shady areas where you can cool off when needed.
Play Hard. Have Fun. Happy Memorial Day! Get your MISSION on!
To check out some of the products mentioned, click here