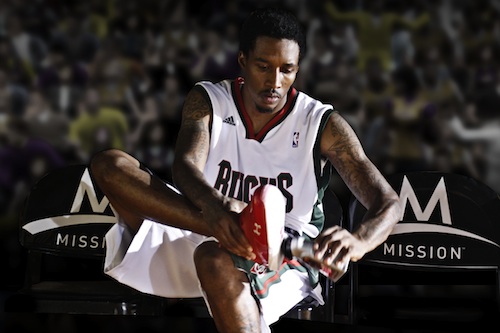 As if the return of the basketball season wasn't enough good news, we've got more. Yesterday, as many news outlets reported, we announced that Mission is now the "Official Athletecare" partner of the NBA.
Some of the NBA's biggest stars signed on with Mission this fall and launched our two NBA branded products - Court Grip and Power Grip. Dwyane Wade of the Miami Heat started off the Court Grip launch in New York. Brandon Jennings of the Milwaukee Bucks joined the team two weeks later as he promoted Court Grip on the West Coast. The second of our NBA products, Power Grip, which instantly dries hands for better ball control, was launched by the New York Knicks' Carmelo Anthony in the Big Apple. When the season kicks off on Christmas Day, both Court Grip and Power Grip will not only be on the scorer's tables of their teams, but available to all players at all games.
This news follows the NBATA's (National Basketball Athlete Trainers Association) unanimous approval of Court Grip. After extensive in-game testing across all levels of competition, it is the "Official Traction Provider" of the NBATA. Following this announcement Casey Smith, the Chairman of the NBATA, commented: "Maintaining traction on courts is an issue for players and Court Grip addresses the problem better than anything we've ever used. We're pleased to have helped bring this game-changing product to market."
With the season set to begin in one week, we are more than excited to see our products in action with the League's greatest players. It is a momentous step for Mission as a company and we're looking forward to the continued challenge of creating innovative products that address athlete-specific needs.
We can't wait for Christmas.
Both Court Grip and Power Grip are available exclusively in stores at Foot Locker and online at eastbay.com.